Blog

Blog Home
12th Annual Golf Tournament Raises Funds for Children's Hospital
November 5, 2018
It was another successful year for Global's 12th Annual Golf Tournament! The final tally is in, and with the help of our players and sponsors, we raised $61,000 for Seattle Children's Hospital this year.  That brings Global's donations to more than $410,000 dollars for the charity over the last 12 years.  These donations go to help this institution provide exceptional care for kids and their families.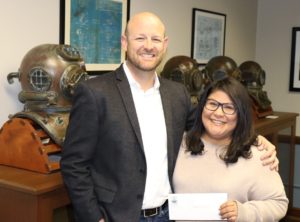 Melissa Cardenas, Development Manager for Seattle Children's Hospital Foundation & Guild Association, said they're truly thankful for the donations and the work that Global puts into hosting the golf tournament each year. "Global has been awesome to partner with over the years. Thank you for continuing to raise funds for Seattle Children's and Strong Against Cancer, and for allowing our Guild members to participate in the tournament," she said. "The ladies had a great time and enjoyed themselves, and our hole on the course for the prize raffle raised $4,600."
Devon Grennan, Global President and CEO, said it's the fellowship that makes the event so inviting each year. "It's a wonderful way to bring people together for a common cause, and have a lot of fun while doing it," Grennan noted. "Seattle Children's has a special place in the hearts of our employees, and we're proud to
support them in all they do."
Congratulations to our tournament winners – First Place went to the team from Saltchuk! Global would like to give a special thank you to the Children's Hospital volunteers, along with the sponsors, players, Global's volunteers and the staff from The Plateau Club. You helped ensure the event was another success, and we're already looking forward to 2019!