Blog

Blog Home
Chad Kasin Receives Global's Yoke Award
June 4, 2020
Each year, Global takes a moment to recognize a single Global employee who best represents the Global spirit by their willingness to "shoulder the load". We are pleased to announce the 2019 Yoke Award winner is Chad Kasin, California Region General Manager.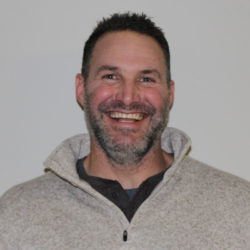 "Usually we shake hands, give a pat on the back and raise a glass to congratulate the individual who puts the company on his or her back and moves everyone forward. Due to COVID-19 this year, we had to unmute our speakers and give a thumbs-up on the video conference screen to celebrate Chad's accomplishments," said Devon Grennan, Global President. "Either way, there is not a more deserving individual at Global. Chad stepped into the lead role of our California region after we lost our great friend Kevin Pehle last year, and now he is building upon all the great work that Inshore Divers and Global have completed over the past 40 years."
Chad began working at Global as a saturation diver and superintendent in 2007, becoming Dive Operations Manager of the Northern CA branch in 2014 and General Manager in 2019. Chad has always had a reputation of being willing to step in and assist whenever and wherever it's needed. As a coworker and leader he flies the Global flag high, inspiring the same hard-working attitude and initiative in the rest of his team.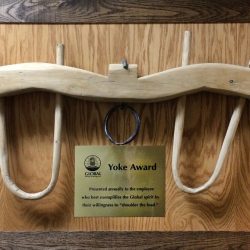 The origin of the Yoke award stems from Global's earlier years; we wanted to find a way to recognize our employees for their hard work, going above and beyond, and pitching in to help get a job done. So we bought an actual goat yoke on eBay for $60, sanded off the paint and hung it on a wall in our Seattle headquarters, where it still hangs today.