Blog

Blog Home
Current Shifts in the Salvage Industry
October 14, 2019
Earlier this year, Global used a Remotely Operated Vehicle (ROV) to rig a 35' steel-hull tug for recovery after she sank in 230 feet of water in the Northumberland Channel near Nanaimo, BC in 2014. Once at the surface, the tug was dewatered and defueled; after inspection by the Canadian Coast Guard she was authorized for return to the owner and refloated.
Devon Grennan, President of Global, says true "salvage" projects like this are becoming rare, as most vessel casualty projects over the past few years have resulted in wreck removal rather than traditional salvage. The tug salvage was also distinctive in that it was conducted almost exclusively with unmanned techniques.  "With the continued development of innovative technology, unmanned intervention is quickly becoming more and more available and executable in the field," says Grennan. "We are seeing developments with in situ underwater lightering where an ROV can place hot tap and pumping gear directly onto the hull of a sunken vessel, limiting the use of commercial diving."
2018 statistics published by the International Salvage Union (ISU) show overall salvage and wreck removal opportunities are at historic low levels. Grennan says this is creating tremendous pressure on the salvage industry, in turn resulting in intense competition when opportunities arise.  "We re seeing competitors accepting significant contractual risk and performing at extremely tight margins," he said.  "Global has deliberately narrowed our casualty response business strategy due to the economic realities of today's salvage market." Grennan says that although owning marine assets such as tugs and barges can seem like an advantage for salvage companies, he expects nimble salvors who contract resident assets and resources will continue to drive pricing down.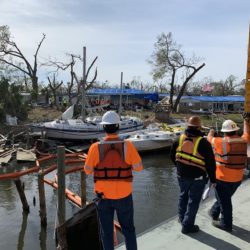 As the salvage industry shrinks, new growth arises however. "There has been a new wrinkle in the expectations of a salvor: acting as project manager for large scale mass casualty events, predominantly due to weather events," says Grennan. The ability to coordinate with various local, state and federal agencies while managing environmental considerations has become critical. "There are salvage contractors tasked with assisting not only cleanup activities after a tragic hurricane, but also with business continuity and overall relief efforts.  I see this trend continuing as federal agencies require technical and complex commercial solutions that the salvage industry can provide."
Grennan said the future of salvage lies in flexibility and diversification – as well as good fortune. "The credo of today's salvor is fairly straight forward: to be successful, you must retain experience and an emergency response posture, while also expanding your other services to provide a stable and reliable revenue stream. And even then you still need a little luck on your side."