Blog

Blog Home
Global Adaptation and Inspiration for R2AK
June 12, 2018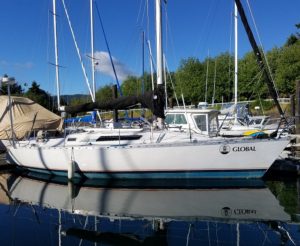 Team Global is only hours away from starting Stage One of the Race to Alaska. They'll sail (and row) across the Puget Sound from Port Townsend, WA to Victoria, BC for the first stage on June 14th. After a couple of days for making adjustments or repairs, they'll set out with the other teams for Ketchikan, AK on June 17th – 700 miles of unpredictability.
Team Captain Katy Stewart says working at Global and her past R2AK experiences have taught her it's key to be prepared for anything. "Last year we were lucky enough to learn a lesson or two on Stage One after the gale blew in; we had time to adapt, like putting the third reef point in our sail. It's also absolutely necessary to have a damage control kit on board because we used ours last year," she said. (See last year's race recap for details on how to repair a broken boom in the middle of nowhere.) "Most of my big lessons were learned during my first year (in 2016). Hopefully, knock on wood, this will be my fun year with the lessons learned the hard way before."
The ability to adapt and improvise is a trait that runs deep at Global, and the team's rowing stations are a testament to that mindset. Lara Mayer, crew member, says coming up with creative solutions for human power is a key part
of race preparations. "Katy came up with the idea of having a single-person station aft and low to the water for better efficiency, plus a single-oar rowing station on each side since it's such a big boat," she said. "You're not exactly going to find off-the-shelf rowing stations for a 34-foot 1980s Beneteau sailboat, so we built our own. We tossed around a bunch of design ideas and enlisted family members to help us build them. We installed them and tried them out, and they moved the boat a lot easier than any of us thought they would. I think they're going to work great."
The race, and Global's participation in it, isn't just about overcoming challenges – it's also about inspiring future generations of mariners. "It's great that Global is a race sponsor. The Northwest Maritime Center teaches classes and gets kids involved in sailing, boating, and making a living on the water," said Mayer. "It's amazing to see so many kids and teenagers following R2AK, volunteering at NWMC events, or even building a boat for the race – there are several teens racing this year, including one on our team. If they're the future of the industry, I think it's in good hands."
You can keep up with Team Global on Facebook, and track their progress to Ketchikan in real time at R2AK.com after the race starts.