Blog

Blog Home
Global Employees Ready for Rugged Race to Alaska
May 23, 2017
Try sailing from Port Townsend, Washington, to Ketchikan, Alaska, on a boat with no official race course, no motors, and no supply drops. Add in the potential of drowning, being run down by a freighter, or bumping into a grizzly bear. Put it all together and you've got the Race to Alaska.
"This is absurd. It's borderline reckless," said Malachi Church, a Global Environmental Technician who is competing in R2AK for the first time. "It's a proper Northwest/Alaska adventure. I'm pretty stoked for this."
It clearly takes a unique personality to compete in the Race to Alaska – someone like Global Marine Casualty Response Project Coordinator Katy Stewart, who is taking part in R2AK for the second time.
"Why would you not?" Stewart asked. "I just can't imagine not thinking it sounds like such an incredible thing to do, and I can't imagine not just automatically wanting to do it."
That says a lot coming from Stewart, who fought through immense challenges to complete the 750-mile race with her team last year. They spent 12 days on the Inside Passage before reaching the finish line.
"It was a little bit of everything," said Stewart, who is racing for Team Global this year. "Too cold. Too hot. Too much wind. Not enough wind. You're hungry. You're tired. It's hard to maintain morale when you're that tired."
R2AK, a project of the Northwest Maritime Center, is the longest human and wind-powered race in North America. Teams are self-supported with no safety net out on the water. Last year, 44 teams started the competition and only 26 finished the race.
"It's just a bunch of people getting on sketchy boats and going through some rough waters to Alaska," said Church, who is racing with high school friends on Team North2Alaska. "It's a pretty rugged race and there aren't a lot of rules involved. It's, 'here's where you are, here's where you have to go, and figure it out'. I like that."
R2AK is self-described as the Iditarod, but on a boat. The race's website says, "There are squalls, killer whales, and tidal currents that run upwards of 20 miles an hour." Those treacherous currents are what Stewart remembers most (not fondly, we might add) about last year's race.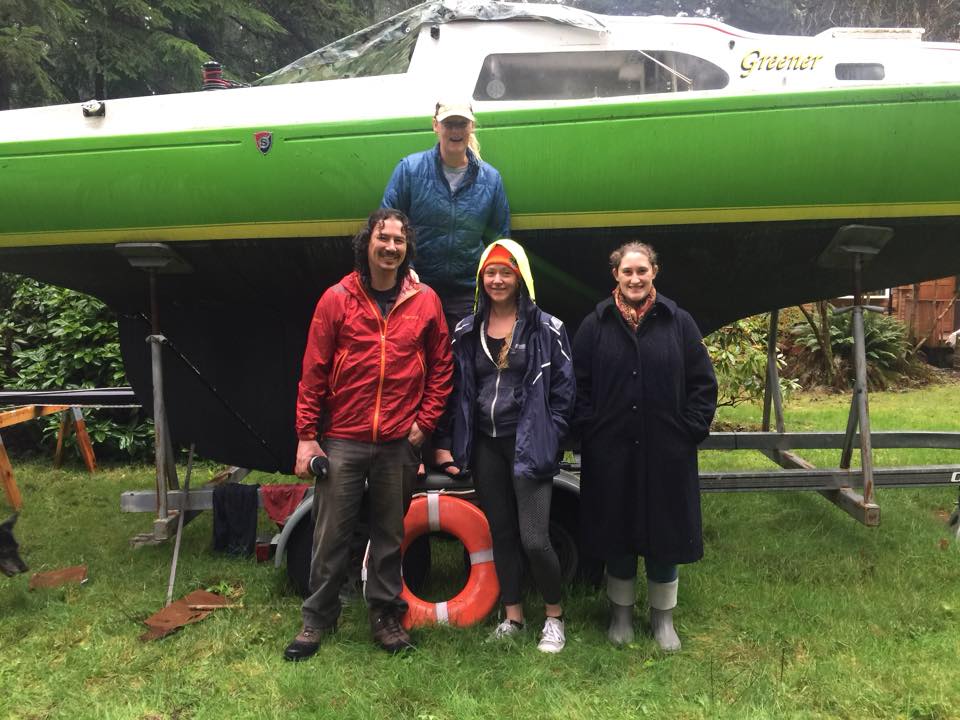 "The really mentally tough part was trying to fight the current that you literally can't fight," Stewart said. "If there's not enough wind for you to be sailing against the current that's moving against you, then you're definitely losing ground. And that's hard in the middle of the night when you're hungry, cold, and tired, and knowing that you're moving backward no matter how hard you row."
There are a lot of similarities between Global and the R2AK teams. We both like the challenge of doing really hard things in questionable circumstances. And that's why we're proud to sponsor the Race to Alaska.
"We belong together," Stewart said. "The R2AK organizers came in for a meeting and it felt like a first date. The conversations were 'you guys are cool, no you guys are cool. This is great!'"
And that common bond just might give Global employees an edge in R2AK.
"Global provides emergency response for the Northwest. We just run out to a situation that a lot of us have never been in, but we have to problem solve and figure it out as we go along," Church said. "In that manner, we're going into the race basically not knowing what's going to happen. I expect everything to go wrong and I expect my crew to adapt and overcome the situation."
But we have to be honest – although we share the racers' determination to overcome any challenge, even some of the divers at Global think Stewart and Church are a little bit nuts for competing in R2AK.
"Everyone there really does think I'm crazy," said Stewart. "Except we're talking about a whole bunch of dudes who use sharp tools on the bottom of the ocean, breathing through a garden hose. And they think I'm crazy?"
The Race to Alaska begins June 8th in Port Townsend. The first stage is 40 miles to Victoria, British Columbia, and the 710-mile second stage begins June 11th, eventually taking competitors to the finish line in Ketchikan.
"It's out there," Church said, "but I know it's going to be a great time."
Teams have finished the R2AK in as quickly as four days, but there are usually a number of teams that never see the finish line. The first place finisher gets $10,000 (if you're the first to say yes to selling your boat back to the R2AK crew, there's $10,000 in that, too), second place receives a set of steak knives, and the rest – they feel a sense of accomplishment completing something that most of the world thinks is just plain insane.
We're following Katy and Malachi every step of the way during the Race to Alaska. Check out our Facebook page for the latest on their progress, and visit their team pages at Team Global and Team North2Alaska for more.