PROJECT DETAIL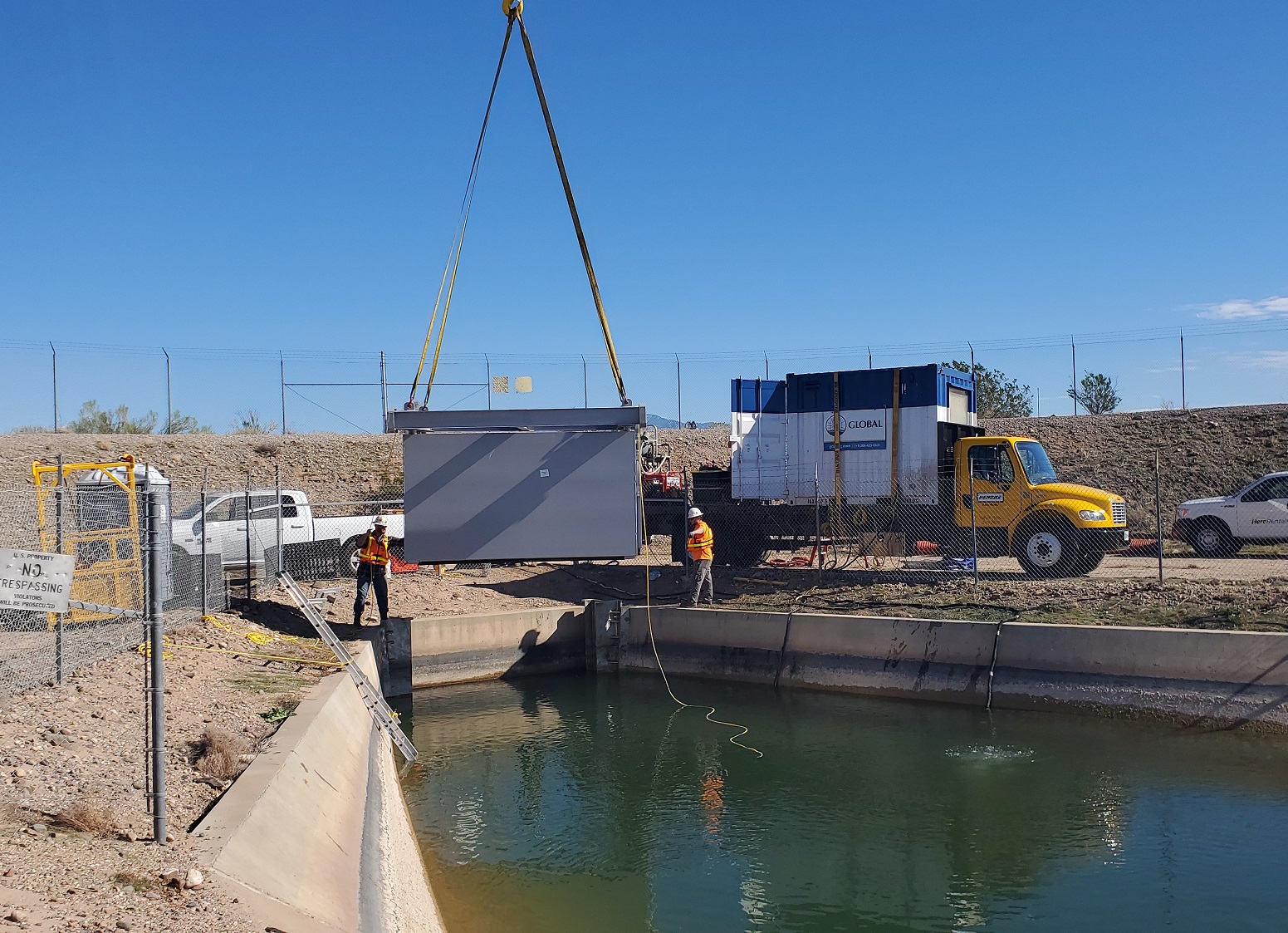 Siphon Access Stoplog Installation
November , 2020
Earlier this year Global completed a multi-phase, four-location siphon access stoplog project for Central Arizona Project (CAP) that would allow CAP's siphon sections to be safely and easily dewatered. CAP is a 336-mile long canal that brings Colorado River water to central and southern Arizona at a flow rate of 1.35 million gallons a minute, providing water to more than 80% of the state's residents. This canal runs underground through pipelines (siphons) in several areas; the guides and removable stoplog gates were installed on four of the siphon outlets to allow safe access for inspections or repairs.
For the first phase of the project, Global's dive team conducted a thorough inspection of all four sites, gathering real-time video and tactile information. The divers cleaned the areas where the siphon outlet stoplog guides would be seated, taking measurements and checking for any areas that needed repair. The measurements and video provided the engineering firm with up-to-date data to further design and optimize the stoplog system. Once the access stoplog system designs were completed and approved by all parties, they were turned over to a subcontractor for fabrication.
After the stoplog guides were fabricated, Global's dive teams traveled to each of the four siphon outlet sites to permanently install the guides on the sides of the canal at the pipe outlets.  The access stoplog design allows the guides to be installed close to the headwall and the logs create a 'step-out' six-feet downstream to allow manpower and equipment access into the siphon.  Any necessary minor repairs to the outlets were made to ensure proper alignment with the guides. The guides were set with anchors and epoxy, then grouted in to complete the seal. The grout work on the project had to be highly precise; any errors would create issues with stoplog installation or function.
After the stoplogs were fabricated to the design specifications, Global's team performed a dry test of each stoplog.  Because stoplog size and weight varied for each location, a concrete test slab with an adjustable stoplog guide template was constructed and used to test fit each stoplog in the dry to check for proper clearances and operation. The stoplog lifting beams were also tested to ensure they were adequate to carry the load of each stoplog.
With dry testing completed, the dive team temporarily installed the stoplogs for operational testing at each location. After each stoplog installation, the siphon was dewatered to ensure there was a tight seal and to check for leaks. The stoplogs were then removed and stored on site at the four CAP siphon outlet locations so they are ready to be set into place by CAP crews as needed. The project was completed safely and to the client's satisfaction.