PROJECT DETAIL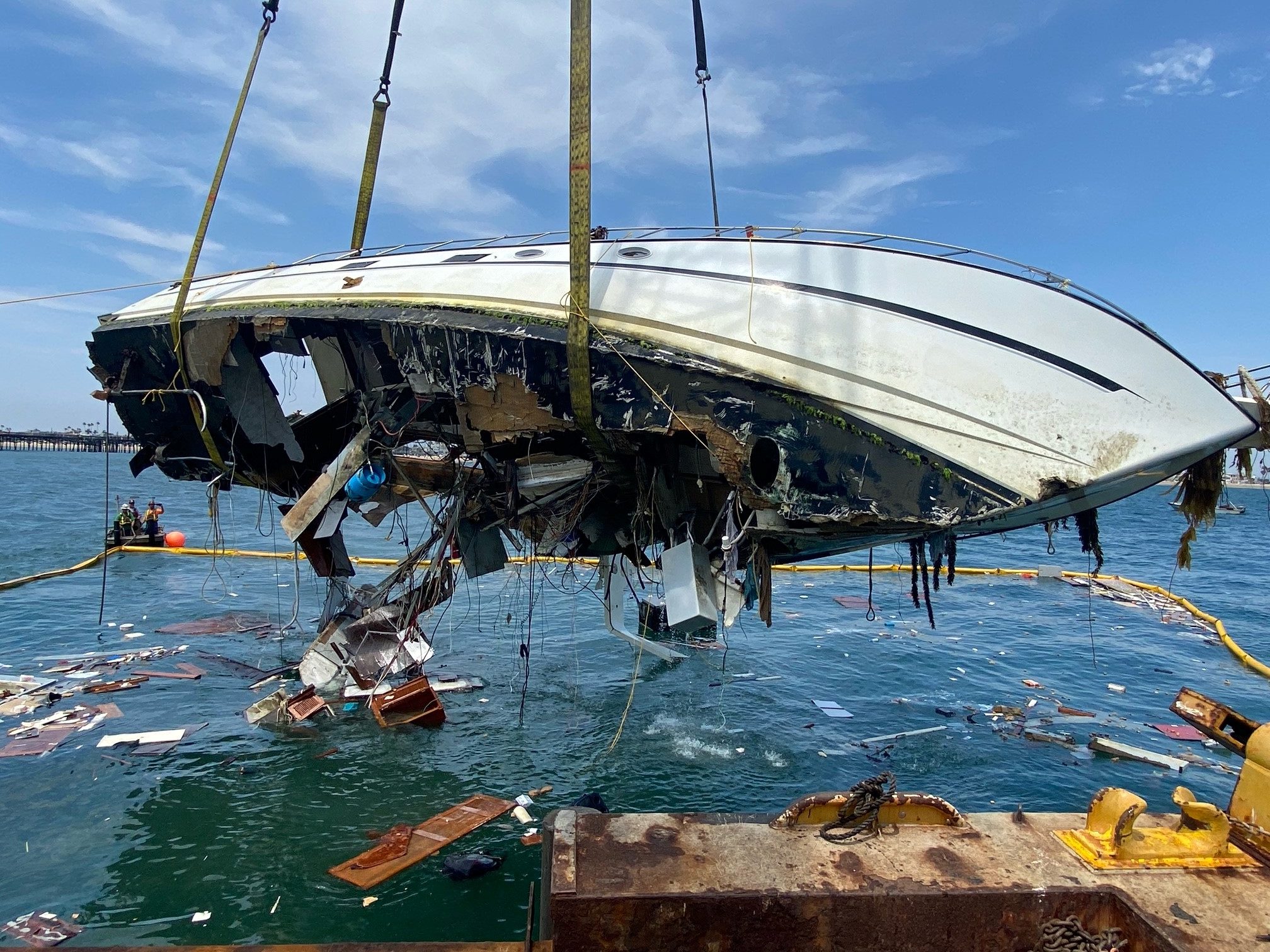 The Godfather Wreck Removal
August , 2021
On July 14, 2021, the 65' fiberglass hulled vessel The Godfather was traveling at night when it hit a breakwater at a high rate of speed and began to take on water inside the Port of Long Beach. The Long Beach Fire Department responded and rescued two people and their dogs from the vessel. The vessel sank in 35' of water, becoming partially submerged with the stern aground and the bow buoyant at the surface.
Because of the potential for fuel release and risk of the stricken vessel to drift into the commercial traffic lanes of the Port, the US Coast Guard and US Army Corps of Engineers ordered its removal and disposal. Global divers conducted a preliminary survey of the vessel which indicated severe damage to the entire bottom of the hull. Refloating the vessel was not feasible, so the decision was made to pick the vessel out of the water with Pacific Tug's DB San Diego derrick barge. Once clear of the surface, the vessel would be lifted onto a deck barge and placed in containment. Vessel deconstruction would then be carried out on the deck barge. Crews from US Ecology would boom off the vessel to contain debris and release of any fuel or oil.
With the salvage plan approved by the USCG, the salvage, barge and US Ecology crews mobilized onto site. Additional dives revealed the entire bottom of the vessel had been ripped away and both the port and starboard engine and one fuel tank had been separated from the vessel and were laying on the sea floor. The vessel was now buoyant and lively, laying hard over on her port side heeled over between 70 and 90 degrees, posing a challenge for the divers rigging the vessel with lifting slings. With the bottom of the vessel missing and the hull integrity severely compromised, the salvage master determined the vessel should be removed in its sideways position as it lay. The vessel was rigged, lifted and landed successfully into containment on the barge. Divers then rigged and recovered the port and starboard engines, fuel tank and other debris from the sea floor as the topside crew and crewmembers from US Ecology removed floating debris and HAZMAT. The derrick barge was demobilized and the deck barge holding the vessel was towed to Pacific Tug's pier at the Port of Long Beach for deconstruction.
Fuel was drained from the vessel's remaining tank into a drum then taken with HAZMAT for proper disposal. With all contaminants removed, the vessel was demolished on the deck barge with a short-side excavator. All debris was placed into roll-off bins for proper disposal. The project was completed safely and to the USCG and USACE's satisfaction.