Blog

Blog Home
Ryan Dimock Receives 2021 Yoke Award
March 30, 2022
Each year, Global takes a moment to recognize a single employee who best represents the Global spirit, by their willingness to "shoulder the load". We are pleased to announce the 2021 Yoke Award winner is Ryan Dimock.
Dimock, Global's lead mechanic, has been with the company for 9 years. He is responsible for maintaining all of our vessels and equipment to ensure everything is working properly.
Dimock's hard work and dedication were noted consistently in his nominations. Warren Posten, ROV Supervisor stated, "I've seen Ryan Dimock out work everyone when it comes to energy output vs. productivity. He always wants to do the best job he can and he does it without being told or rewarded." Ryan Cummings, Asset Group Manager said, "He is a tireless, dedicated, conscientious, hardworking, self-starting, problem solving machine."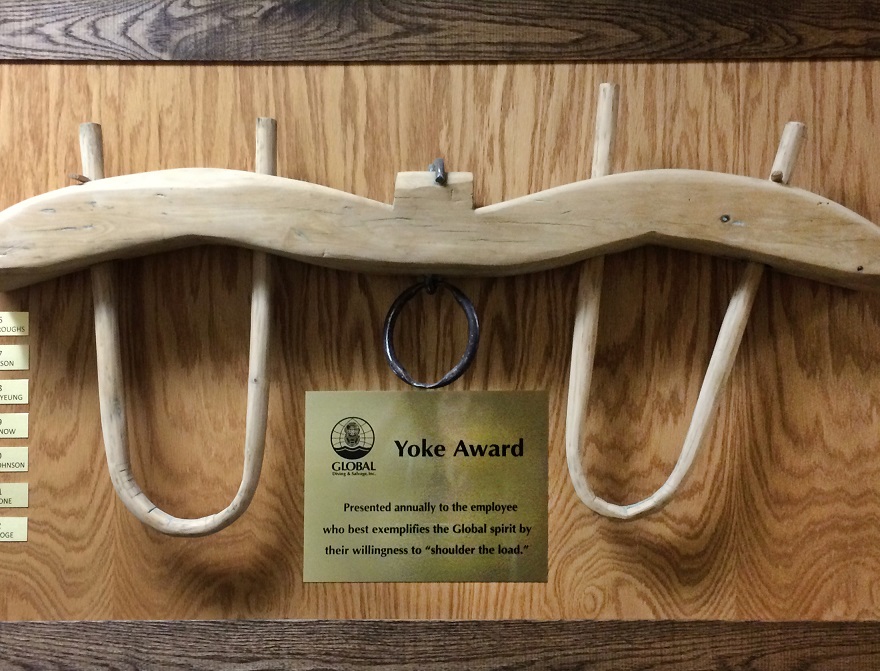 The origin of the Yoke award stems from Global's earlier years; we wanted to find a way to recognize our employees for their hard work, going above and beyond, and pitching in to help get a job done. So we bought an actual goat yoke on eBay for $60, sanded off the paint and hung it on a wall in our Seattle headquarters, where it still hangs today.
On behalf of all the employees at Global and across the DCBU, we thank you!
Dan Pierson