Company Profile
A Leader In Marine Services
Founded in 1979, Global Diving & Salvage, Inc. is a leading provider of marine construction, support services, and marine casualty response worldwide. Global is dedicated to providing clients with safe and effective solutions to complex problems – even under the most difficult conditions.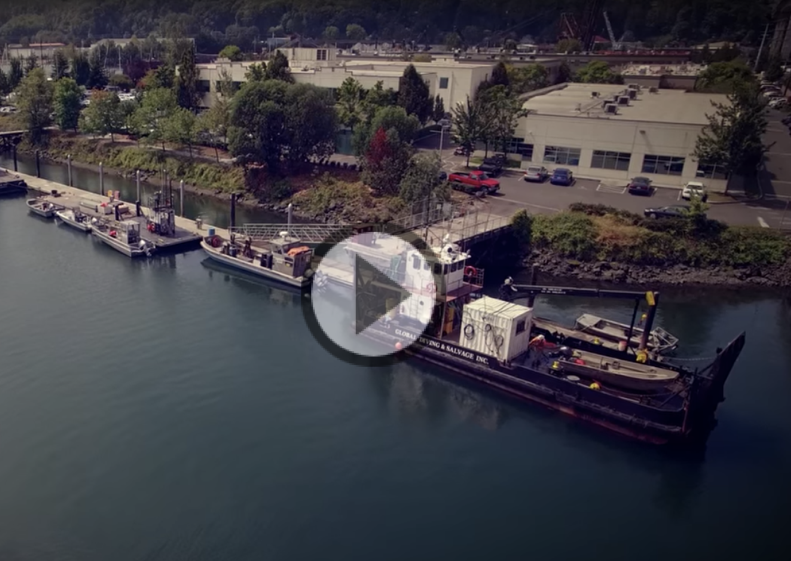 Global is headquartered in Seattle, WA, with additional main offices in Alaska and California. Global is part of the Dive/Marine Construction business line of Moran Towing Corporation, a 160-year-old marine transportation company based out of New Canaan, CT, with 17 locations along the East Coast and the Gulf of Mexico. Global is now part of one of the largest privately held maritime companies in the United States. Together Global, Moran, and Moran Environmental Recovery (MER) provide safe and effective solutions to government, marine, and energy industries throughout North America and beyond.

Recognized internationally for safety, integrity, and expertise, Global provides a wide variety of underwater maintenance, repair, installation, and inspection services. In addition to complete project management, Global offers engineering support for complex projects that require technical underwater procedures and tooling. Our extensive experience and resources enable us to adapt quickly while always maintaining the highest level of safety, and successfully complete the most complex, challenging assignments.

Mission Statement
To stimulate professional pride and passion in our craft and provide our clients and partners with safe, effective solutions to complex problems, even under the most difficult conditions.

Vision Statement
Building on our heritage of craftsmanship, professional partnership, and environmental stewardship and achieving success by developing, engaging, and igniting the passion of our people.

Core Values
• Honesty, Integrity
• Safety, Teamwork, Partnership
• Professional Pride, Dedication to Craft
• Reliability, Dependability

Health, Safety, Environment

Health & Safety
At Global, safety comes first. We emphasize collaboration among our staff and clients to ensure the safest work environment possible. We maintain cooperation through our TEAM program (Together Everyone Achieves More), which encourages employees and clients to ensure safety is maintained for current projects and improved on future ones.
We conduct regular company-wide employee training, perform ongoing observations, have proactive dive safety and general safety committees, track and address trends, and hold daily meetings to discuss job hazard analysis, job safety kickoffs, and frequent safety audits. We comply with all OSHA regulations.
Participating member of 3rd party auditing programs including:

Environment
Global maintains the highest environmental protections at all of our work sites. We conduct ongoing training on regulations, compliance, spill prevention, notifications, equipment maintenance expectations, and cleanup procedures.
We strive to reduce waste and ensure protective measures are always in place. We continually seek opportunities to collaborate with our neighbors and community to promote environmental stewardship.
Associations and Accreditations

History

A Heritage of Underwater Excellence
In 1979, Tim Beaver, John Graham, and a small group of professional divers banded together to provide diving services, ship husbandry, marine construction, small vessel salvage, and spill response services in the Puget Sound region. Their philosophy was simple: provide outstanding service to the maritime community while maintaining the highest level of safety.
Global Diving & Salvage, Inc. was incorporated in 1980. The company built a reputation for its tenacious approach to every job. Each task was treated as the most important project on the books, from simple vessel surveys to fully managed wreck removals.
Global became known for having crews available any time of day or night. "We never wanted to tell a customer that we couldn't do something," says Graham. "When other companies did that, their customers came looking to us and we never let them down." As a result, Global became known as the one to call for any underwater task – anytime, anywhere.
In 2019, Global was acquired by Moran Environmental Recovery, a subsidiary of Moran Towing Corporation – joining a family of operations that cover every aspect of marine services. In 2021, Global was integrated into Moran Towing Corporation to lead their Dive/Construction business unit as 'a Moran company.'
Our founders' original philosophy still prevails and is visible in the passion and professionalism on every Global job site across the globe.
Philanthropy

Global actively supports our community and participates in fundraising for the following organizations:
Seattle Children's Hospital
Consistently ranked as one of the best children's hospitals in the country by US News & World Report, Seattle Children's serves as the pediatric and adolescent academic medical referral center for the largest area of any children's hospital in the country (Washington, Alaska, Montana and Idaho).
For more than 100 years, Children's has delivered superior patient care and advanced new treatments through pediatric research. Children's serves as the primary teaching, clinical, and research site for the Department of Pediatrics at the University of Washington School of Medicine. The hospital works in partnership with Seattle Children's Research Institute and Seattle Children's Hospital Foundation.
To donate or learn more, visit www.seattlechildrens.org.
Puget Sound Maritime Historical Society
The Puget Sound Maritime Historical Society set sail in 1948. The Society's mission is to create appreciation of the Puget Sound region's maritime past in order to better understand our present. In Seattle, the Society maintains a collection of ship models and other maritime artifacts, as well as historic photos, ships' plans, and books.
For more information, visit www.pugetmaritime.org.
Puget SoundKeeper Alliance
Focusing on waterways and shorelines, Puget Soundkeeper Alliance (PSA) conducts multiple cleanup events every year involving hundreds of volunteers from dozens of companies and organizations. PSA volunteers clean beaches, paddle kayaks to find trash in hard-to-reach spots, and tow large debris safely to shore with larger boats.
For more information, visit www.pugetsoundkeeper.org.